Cream Liqueur
Galicia calidade
All the strength and flavour of our orujo, softened by the sweetness of the cream. You'll enjoy a taste of Galicia with every sip.
100% aguardiente de orujo (obtained from the distillation of Ponte da Boga bagasse) where the cinnamon is macerated for a minimum of 2 days, after which it is mixed with a milk cream base and homogenised.
Steam distillation. A low pressure system that filters and drags the best volatile substances rejecting the degradation compounds. Subsequently, the product is stirred to homogenise the liqueur, obtaining distillates of the highest quality and organoleptic complexity.
30% vol. | Serve at a temperature of between 6 and 10ºC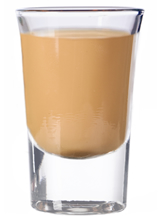 Ponte da Boga Bagasse
Bagasse is made of the peel (grape skins), seeds and remains of grape pulp. To make this liqueur, 20% of the skins are from the Albariño grape, to provide the aroma, and 80% from the Mencía grape.
Aroma
Sweet fusion of the intense aroma of the cinnamon and the fine cream with a delicate touch of aguardiente.