ALAIS
12 Hectares
Southeast facing
Altitude 400-550 m
Soil: Shale
PARADA DE SIL
4 Hectares
North facing
Altitude 300-350 m
Soil: Granite
SAN VITORIO DE RIBAS DE MIÑO
17 Hectares
West facing
Altitude 370-480 m
Soil: Black slate
Adega Ponte da Boga owns 33 hectares of vineyards in 3 unique areas, along the rivers Miño, Sil and Edo (tributary of the Sil).
We work exclusively with traditional varieties from Ribeira Sacra:
RED GRAPES
Mencía, Merenzao, Sousón and Brancellao.

WHITE GRAPES
Godello, Albariño, Blanco lexítimo, Treixadura, Torrontés and Loureiro.

ALAIS
Located in the parish of Alais, overlooking the river Edo, opposite the "Bosques Máxicos" of Castro Caldelas. South facing, on poor stony soil that leads to an early ripening of the grapes resulting in pleasant and sweet wines, with moderate acidity and mild tannins.
We have 4 unique plots:
LARGE VINEYARD
4 ha. plot, planted with Mencía and Merenzao, on terraces with stone walls of more than two metres high built more than 100 years ago.
O CONDIÑO
This is a 0.4 ha. plot, that was walled at the beginning of the 20th century, where the Albariño grows at between 510 and 550 m above sea level.
THE ELOY VINEYARD
1.1 ha. plot, with Godello.
PORTO DE LOBOS
1.1 ha. plot, with Brancellao and Sousón.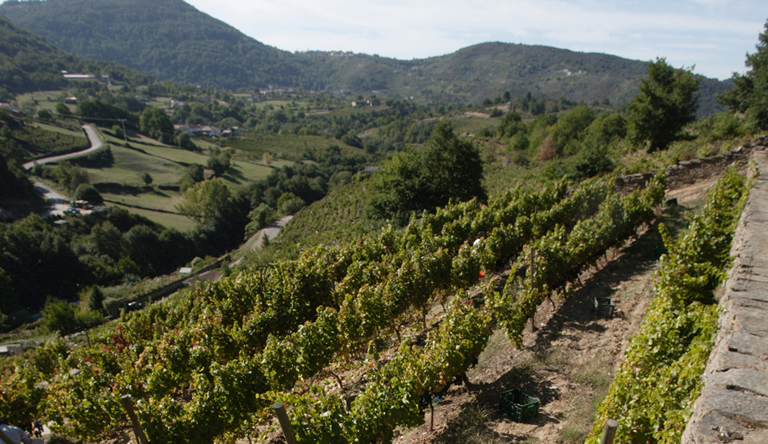 The estates overlook the river Sil. Their terraces face north and are built on poor decomposed granite soil, called "xabre".

This leads to a slower ripening of the Mencía, giving it a fresher character than on the opposite hillside (Amandi), balanced acidity and mild tannins.

SAN VITORIO DE RIBAS DE MIÑO
A unique 32 ha. estate, abandoned decades ago on a hillside of the river Miño, a historic area of vineyards.

It now has 17 ha. of vineyards planted on small terraces facing west, on very poor black slate soil.

Its northernmost latitude prolongs the ripening process and makes the wines extremely fresh and lively, with more pronounced tannins.