Cofee Liqueur
Galicia calidade
A blend of two worlds: our Galician aguardiente mixed with the mildest and most aromatic coffee of Maragogype and Colombia.
Geographical indication Coffee Liqueur of Galicia.
100% aguardiente de orujo (obtained from the distillation of Ponte da Boga bagasse) where the coffee beans (roasted 24 hours before maceration started) are macerated for 5-10 days.
Maragogype coffee of very limited production. Only in certain areas of Nicaragua, Venezuela, and small areas in Colombia and Brazil.
Steam distillation. A low pressure system that filters and drags the best volatile substances rejecting the degradation compounds. Subsequently, the product is stirred to homogenise the liqueur, obtaining distillates of the highest quality and organoleptic complexity.
30% vol. | Serve at a temperature of between 6 and 10ºC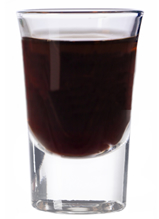 Ponte da Boga Bagasse
Bagasse is made of the peel (grape skins), seeds and remains of grape pulp. To make this liqueur, 20% of the skins are from the Albariño grape, to provide the aroma, and 80% from the Mencía grape.
Aroma
Intense, persistent and with strong notes of coffee.