In this fourth edition we accompany Mäbu in his latest creation. ONE YEAR LATER, is the result of the sum of the four EPs: Spring, Summer, Autumn and Winter.
A record in which the protagonist is time, a wait of 4 seasons to get a record and a unique Mencía grape wine, ONE YEAR AFTER is a limited edition rosé, a bright and fun fresh wine, but preserving the elegance and complexity of Ponte da Boga wines.
Rosé in its purest, fresh, fragrant and fun state, preserving the elegance and complexity typical of Ponte da Boga wines.
Ribeira Sacra.
Atlantic climate with continental influence.
100% Mencía grape.
Mencía bleeding, without extraction pump-over and subsequent fermentation, aged on lees in tanks and barrels for 4 months.
13% vol.| We recommend serving it at around 12ºC.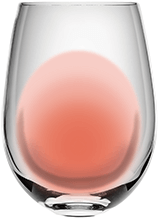 Mencía grape
Its adaptation to the environment is excellent, providing wines that in their youth are fresh, fruity, with intense floral and fruity notes, which with aging evolve into delicate spicy notes, without losing the freshness and fruitiness.
Aroma
Intense, with notes of candy, strawberry, rose and blackberry.