The first limited edition of Ponte da Boga Mencía Rosé to accompany the work of the artist and composer Vega.
This is to accompany a record whose title represents an ode to women's perseverance and ability to overcome obstacles and difficulties in their professional and personal development.
Both values, overcoming difficulties and protecting the environment, are part of the essence and the aim of the Ponte da Boga winery, whose legendary viticulture is produced in an impressive natural setting to be preserved on the slopes of the Sil and Miño rivers.
Mencía Rosé, our most musical wine. A red that chimes like a white, or a white that chimes like a red. An independent and rebellious rosé.
D.O. Ribeira Sacra.
Atlantic climate with continental influence.
100% Mencía grape.
Mencía saignée, with fermentation and aging on the lees in tank and barrels for 4 months.
13% vol. | We recommend serving at about 8-10º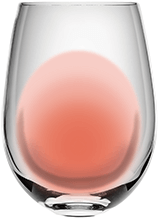 Mencía grape
Its adaptation to the environment is excellent, providing wines that in their youth are fresh, fruity, with intense floral and fruity notes, which with aging evolve into delicate spicy notes, without losing the freshness and fruitiness.
Aroma
Intense, typical of a Ribeira Sacra Mencía, with notes of candy, strawberries, rose and blackberry.