We are pleased to accompany Budiño in his latest creation.
After a renowned career dedicated to playing his own compositions on the bagpipes and flute, he is now reborn giving prominence to his own voice and producing the first album he sings on. A more plural record, of no specific genre, taking on traits from here and there, more open and for everyone.
A perfect album to match the values of this rosé wine from Ponte da Boga, which also dares to cross barriers of expectations regarding what is expected of the wines from our land. If in the first edition, La Reina Pez, we crowned the Mencía grape with our first rosé, now we are polishing its crown with Fulgor.
Mencía Rosé, our most musical wine. A red that chimes like a white, or a white that chimes like a red. An independent and rebellious rosé.
D.O. Ribeira Sacra.
Atlantic climate with continental influence.
100% Mencía grape.
Mencía saignée, with fermentation and aging on the lees in tank and barrels for 4 months.
13% vol. | We recommend serving at about 8-10º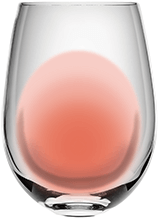 Mencía grape
Its adaptation to the environment is excellent, providing wines that in their youth are fresh, fruity, with intense floral and fruity notes, which with aging evolve into delicate spicy notes, without losing the freshness and fruitiness.
Aroma
Intense, typical of a Ribeira Sacra Mencía, with notes of candy, strawberries, rose and blackberry.