We are pleased to accompany Eladio y los Seres Queridos in their latest creation: an album that was created after fifteen years in the music business, a discourse on happiness.
An album in which the song is the protagonist, emphasising their signs of identity and exploring new structures of expression of their music. As in each song, we look for new expressions with our Mencía. Academia is a limited edition rosé that is a fresh, fragrant and fun wine, while still retaining the elegance and complexity of the Ponte da Boga wines.
Mencía Rosé, our most musical wine. A red that chimes like a white, or a white that chimes like a red. An independent and rebellious rosé.
D.O. Ribeira Sacra.
Atlantic climate with continental influence.
100% Mencía grape.
Mencía saignée, with fermentation and aging on the lees in tank and barrels for 4 months.
13% vol. | We recommend serving at about 8-10º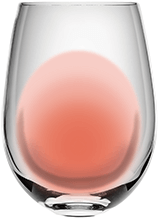 Mencía grape
Its adaptation to the environment is excellent, providing wines that in their youth are fresh, fruity, with intense floral and fruity notes, which with aging evolve into delicate spicy notes, without losing the freshness and fruitiness.
Aroma
Intense, typical of a Ribeira Sacra Mencía, with notes of candy, strawberries, rose and blackberry.